Charlotte's bloemschikworkshop maart 2022
Workshop maart 2022
– Bloemschikken: Swingende laurier-
[flat_button text="Schrijf je nu online in" title="Flat Button" url="#inschrijven" padding="10px 20px" bg_color="#FF5C00″ border_color="#FF5C00″ border_width="1px" text_color="#FFFFFF" text_size="18px" align="center" target="_self"]

Het voorjaar is in zicht! Tijd om te gaan genieten van prachtige bloemen in huis!
Met een
"
Swingende laurier
"!
Je rijgt de laurierbladen aan elkaar, de vorm maak je naar eigen inzicht. Vervolgens gaan we aan de slag met suikerriet om het geheel een modernere look te geven. Daarna werken we het af met prachtige kleurrijke bloemen. Een unieke extra bloemschikworkshop met maar een beperkt aantal plaatsen!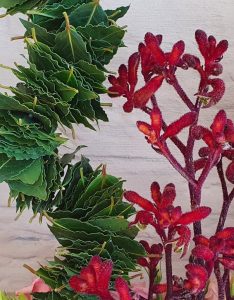 Prijs:
€ 29,50
Data:
Woensdag 16 maart 13.30 uur
Woensdag 16 maart 19.15 uur
Let op: een unieke workshop voor de snelle beslissers, geef je snel op want vol=vol.
Wil je een workshop volgen en op de hoogte blijven van alle nieuwtjes, schrijf je in voor de nieuwbrief of like ons op Facebook of Instagram.
Voorschot: € 10,-
(Schrijf je eerst online in én maak het voorschot over. Je ontvangt vervolgens een bevestigingsmail van ons.)

De lessen gaan door bij voldoende opgave,
zo niet laat ik iets weten.
Het voorschot mag overgemaakt worden op het volgende rekening nummer, vermeld hier de datum en de naam van de workshop:
Op naam van: Charlottes pompoenen
Rekening nummer: NL24RABO0159416019
Mocht je na opgave verhinderd zijn, dan kan ik de opdracht voor je maken of iemand kan jouw plaats innemen.
Twee dagen voor de workshop kan ik
het, indien mogelijk, verzetten.
Charlotte's pompoenen,
Watervlietseweg 15
4515 SC IJzendijke
Tel. +31 (0) 610327188
info@charlottespompoenen.nl
(langs de weg van IJzendijke naar Watervliet/N679 bij de Belgische grens)
---
---
---